Kanwal(India Today), Upadhaya(India TV) do good     
On Wednesday, our media monitoring team found the Rahul Gandhi threat to reveal corruption in relation to demonetization to be the most covered story, while Rahul Kanwal of India Today was the best anchor and Abhishek Upadhaya of India TV the best reporter of the day. With regard to speed of breaking news, ABP Newswas the fastest.
Most Covered Story
Congress vice-president Rahul Gandhi set the proverbial cat among the pigeons on Wednesday when he told journalists that he had sensational proof of corruption involved in Prime Minister Narendra Modi's demonetization scheme. "The PM is personally terrified of the information leaking out," said Gandhi at a joint press conference with leaders of 15 Opposition parties in New Delhi. "It is personal corruption of the PM that we have detailed information on."
Last week Gandhi had said there would be an earthquake if he was allowed to take the floor in Parliament. Since November 16, when the winter session of Parliament commenced, the Oppositionhas derailed proceedings in both Houses to highlight the hardship caused to the common man by Modi's demonetization scheme.
Best Anchor
Christian Michel, a British businessman, was paid millions of dollars by AgustaWestland.India signed a contract to purchase 12 AgustaWestland AW101 helicopters in February 2010 for the Communication Squadron of the Indian Air Force to carry the President, PM and other VVIPs.
The controversy over the contract began on February 12, 2013, with the arrest of Giuseppe Orsi, the CEO of Finmeccanica, AgustaWestland's parent company, by Italian authorities.
Rahul Kanwal of India Today, in his report, mentioned that India Today had exclusively found out about the diary of Michel, which included details of the purchases and all the scams related to the chopper deal with India.
Kanwal showed some of the documents and proof relating to the case and promised to show more such proof which is yet to be disclosed.
Best Reporter
The RBI has asked banks to preserve CCTV footage of operations at their branches and currency chests to help law enforcement agencies in identifying people engaging in hoarding of new notes. The apex bank had earlier issued a notification asking the banks to bring the banking area and counters under CCTV surveillance to facilitate identification of people abetting circulation of counterfeit notes.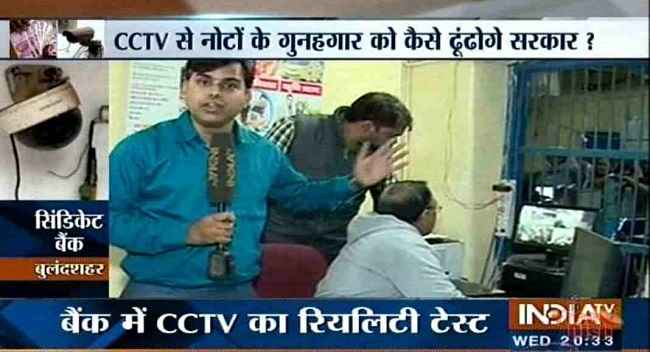 India TV reporter Abhishek Upadhaya did a sting operation to find out whether banks are following the RBI notification. For this, he chose Syndicate Bank in Bulandshahr. He found very few CCTV cameras installed. Moreover, the cameras were not working and when the reporter asked the bank manager about this, the latter replied that he had already made a complaint about it.
Asked about footage recorded while the cameras were working, the manager was unable to provide any information or record of it.
Breaking News
Rs 3.25 crore in old notes seized from hotel in Karol Bagh, Delhi, five arrested
| | | | |
| --- | --- | --- | --- |
| ABP NEWS | APN | INDIA TV | AAJ TAK |
| 8:50 AM | 8:51 AM | 8:52 AM | 8:53 AM |
Fresh firing in Anantnag, Jammu and Kashmir
| | | | |
| --- | --- | --- | --- |
| ABP NEWS | APN | INDIA TODAY | TIMES NOW |
| 9:21 AM | 9:58 AM | 10:00 AM | 10:00 AM |
LokSabha adjourned till tomorrow, Opposition clash over demonetization scheme
| | | | |
| --- | --- | --- | --- |
| NDTV | APN | ZEE NEWS | AAJ TAK |
| 11:08 AM | 11:09 AM | 11:10 AM | 11:13 AM |
Rahul Gandhi says he will expose PM's corruption
| | | | |
| --- | --- | --- | --- |
| ABP NEWS | APN | AAJ TAK | IBN7 |
| 12:32 PM | 12:33 PM | 12:34 PM | 12:40 PM |
NGT imposes interim nationwide ban on manja for flying kites
| | | | |
| --- | --- | --- | --- |
| APN | NDTV | IBN7 | ABP NEWS |
| 1:06 PM | 1:08 PM | 1:13 PM | 1:15 PM |