The story of courageous Hiba Darwish                                           
By Tanu Patni
As she opened her eyes, she saw the face of a middle-aged Israeli soldier staring at her. There were four more armed soldiers in her room giggling and talking in abusive language. They ransacked the entire room of an innocent person and were completely unapologetic about it. That incident has occupied Hiba Darwish's mind for many years now and is difficult to discount when she recollects her childhood as a Palestinian girl.
Growing up, Hiba was full of fear, anger and frustration. There were times when she would have nightmares of bullets hitting her and would get up, her body shaking with fright. The anger and bitterness strengthened her determination. "I want my children to grow up as normal human beings." From there, began her dream. The dream of a free Palestine.
Hiba studied hard. Completed her undergraduate studies in media followed by a masters from Birzeit University in Palestine. She took up a job in the university itself. She realized that even though Palestine had the highest education rate in the world, the unemployment rate was very high. Creating jobs for young people was very important for the development of the country.
"Death is everywhere. You can be a victim anytime."  "It was 7.00 am. My mom was watching the television and they shot at our house. Mom survived thanks to a miracle. The distance between the bullet and her head was very small. We still have the bullet lodged in the wall of our house."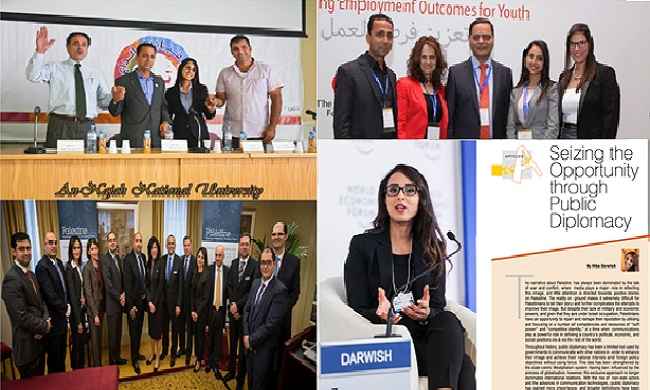 The conflict between Israel and Palestine has resulted in a very rough childhood for Hiba. "In the 80s, the Israeli Army would shoot at any peaceful demonstration. I was in university. Uprisings were happening everywhere. They would block the roads with tanks. Students would demonstrate peacefully on roads. The professors would teach them right there on the road. Without any provocation, Israeli soldiers would throw tear gas shells or fire their guns at these students."
It is hard to believe that this young, pretty lady has had such terrifying experiences. "That is why I can relate to any child who lives in the war zone. I have lived in one and am surprised how I survived. I strongly believe there should be therapy and support for children from war zones. They can't cope otherwise."
"Israelis demonstrated their raw power all the time. They would move in military trucks and jeeps. Have you heard the sirens of jeeps when they come to arrest someone? Even today there are Israeli checkpoints everywhere. People are herded like animals through these checkpoints. These are like slaughterhouses for animals. There are metal doors with bars. Palestinians have to go through all kinds of humiliation. I saw an old lady who didn't understand Hebrew. There was a soldier, around 20 years of age, who shouted at her. She didn't understand. When she crossed the yellow line, he pushed her. She was of his grandmother's age. Every person needs to be treated with dignity."
Hiba believes that a change of perception is needed when talking about Palestine. "The media doesn't understand that Palestine is not about war and conflict only.  We need to break these negative images. The narrative needs to change, stereotypes must be broken. Only then will tourists visit and investments increase."
Hiba has played a leading role in various initiatives aimed at promoting investments in Palestine. "People who work in government and in ministries in key positions need to undergo training. Policies need to be changed." She wants to be instrumental in increasing trade, improving tourism and expanding industry in her country by changing the view of people about Palestine. She co-founded the Palestinian Institute for Public Diplomacy. It was an initiative that aimed at enhancing the image of Palestine before the world. She provided strategic advice to the public sector on national policy issues, economic and social development projects and initiatives." She then went to the London School of Economics from where she did her masters in global politics. She is currently doing her masters in public administration from Harvard Kennedy School.
Hiba's worst moment in life came few years back when her father fell sick. "It was a wake-up call. I started checking regularly on my family. You realize that you can lose them anytime. Everything else is secondary. Family comes first." Hiba has five brothers. Three of them are elder to her. Hiba was always determined to be equal to her brothers. She was fiercely independent and became a national-level basketball player.
Hiba is full of positivity and confidence. She attributes this trait to her father whom she is very close to. "I learned from him how to block negative play. I learned from him how to divert it to positivity. Energy is contagious. I learned how to let go. I learned how to forgive." Hiba does not believe in confrontation. She just moves on.
When she was just 14 years old, Hiba was allowed to travel alone to the USA. "This was a turning point in my life. When someone believes in you, it gives you motivation. Being on my own is what shaped my personality. That experience made me grow up."
Her role model is Noam Chomsky. "He dares to speak the truth. I started reading him at the age of 13. I always admired his courage as I grew up. He didn't look for position or money. He represents a value system that I admire. He doesn't compromise."
She agrees with Chomsky that the wall which Israel is building around West Bank is aimed at occupying more land. "This wall is uglier than the wall of Berlin," she said. The Israelis say this wall is necessary for their security. According to a study conducted by the University of Haifa, one in five Israelis has lost a relative or friend in a Palestinian attack. That is the reason why Israelis do not trust Palestinians.
"The most interesting things in life happen when you least expect them to happen and they come from people you least expect them to come from. While studying in London, I came across a homeless woman who would sit outside on a bench the whole day. After talking to her, I came to know that she was a student of LSE. Bad things had happened to her. She was sick, jobless and without money but she would greet me daily with a big smile. When I feel low, I think of her. My problems seem very small compared to hers. Despite her daily struggles, she is positive. With a big smile she said, 'Life teaches you lessons from random people. What I learned from people is more than what I learned from courses.'"