Notebandi main focus of polls: Mudda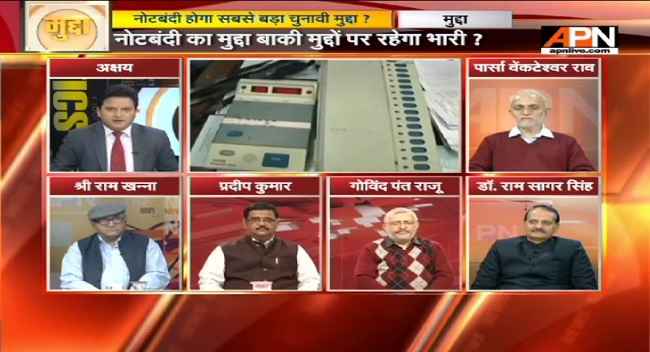 It has been 42 days since Narendra Modi announced the demonetisation scheme that has brought India to a standstill. From political blame games to the struggles of the middle class and poor, we have witnessed it all. Now, with the upcoming Uttar Pradesh elections, demonetization has crept in here, too. Tuesday's edition of Mudda, the daily current affairs talk show on APN, was on Mission 2017: Effect of Demonetisation on the Elections.
Moderated by Akshay Singh Gaur, participants included BJP leader Ram Sagar Singh, economist Ram Khanna, spokesperson of UP Congress Pradip Singh, senior journalist Parsa Venkateswar Rao Jr and APN consulting editor Govind Pant Raju.
While the BJP is using demonetization as its main electoral plank, the BSP and SP are focusing on local issues and development. Will this strategy work for the BJP? Ram Sagar Singh said: "I don't agree that the BJP is not focusing on local development. Demonetisation is associated with development. The hoarded black money is being released. The money, which was meant for development, is coming back to the public. And with this, new roads to development will open up." But Pradip Singh refuted this argument. "Unemployment should be the main issue here. Notebandi is a Rs 8 lakh crore scam. Despite repeated suggestions to not implement it, Modi went ahead and did it anyway," he said.
Pradip and Ram Sagar got caught up in a one-on-one quarrel. It was then that Ram Khanna took over. He raised the issue of the effect the scheme has had on the masses: "Farmers and daily labourers do not have black money. Only one percent of India's public, mostly the rich, own it. For that one percent, you have brought the remaining 99 percent out on the streets. There was no need for it. The government had promised it will bring black money from Swiss banks back to the country within 100 days. Till date not a single dollar has come home."
Ram Sagar immediately jumped to the rescue of his party: "The Supreme Court had ordered to set up a Special Investigation Team (SIT). When the Congress was in power they did not do it. When we came to power we did. The government has blocked the routes in seven countries through which black money had been passing."
Govind Pant Raju commented on the positives of the demonetisation exercise. "The situation has improved, no doubt. But if someone says it has improved completely, it would be false. People are still worried. There are long queues outside ATMs and banks. The situation is worse in villages. People are protesting outside banks. The whole of Uttar Pradesh is harvesting violent sentiments. But we must remember that, though only one percent has black money, that has an effect on the masses. The money, which came to support education in the country, help farmers buy seeds and cultivate, was illegally hoarded and it could not reach the public. Now it will. We cannot say corruption will end completely but it has suffered a great blow."
So how will the government segregate the black money hoarders from the innocent ones, asked Akshay. To this, Parsa replied: "It will take time." But with the political parties enjoying tax exemption, won't it make the situation difficult? "The government can't change the laws just like that. Presidential rule is difficult in India… Modi should discuss and work with others to govern a country."
Parsa also mentioned the negatives of demonetisation. "The scheme has had adverse effects on the macroeconomy. Job creation has decreased, there have been fewer investments. People are not willing to spend like they used to. Those who came to big cities in search of jobs are going back to their villages. Henceforth our economic growth will be less."
Coming back to the discussion on UP elections, Govind Pant Raju said: "The focus of the election has shifted. Earlier it was the successes and failures of the Samajwadi Party. Now, the centre's decision has become the main talking point. Besides, the anti-incumbency factor is also at play against the Samajwadi Party."
Compiled by Usha Rani Das