Actress Debbie Reynolds dies at 84                                             
By Karan Kaushik
It was a clear case of broken heart syndrome. Just one day after the death of her daughter, Star Wars actor Carrie Fisher, star of yesteryears Debbie Reynolds passed away from a stroke. She was 84. The 2016 winner of the Academy Awards Jean Hersholt Humanitarian Award had been heartbroken by Fisher's demise.
Hours ago, Reynolds had addressed her daughter's fans on Facebook: "Thank you to everyone who has embraced the gifts and talents of my beloved and amazing daughter. I am grateful for your thoughts and prayers that are now guiding her to her next stop. Love, Carrie's mother."
The How The West Was Won star is survived by her son Todd Fisher, who told media that Reynolds had said "I want to be with Carrie" about 15 minutes before she suffered the fatal attack.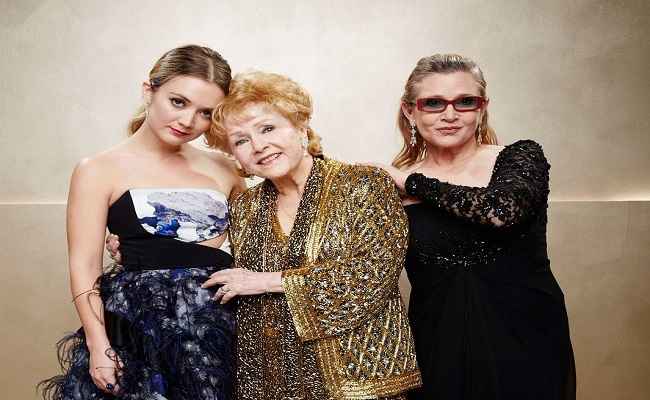 Fisher's daughter, Billie Lourd, posted a picture of herself with her late mother and grandmother at the 2015 Screen Actors Guild Awards on Facebook after the news of Debbie's death broke out.
Further tributes came from Joely Fisher, daughter of Reynolds' ex-husband Eddie Fisher and Carrie Fisher's half-sister, who tweeted a picture of herself and Reynolds with the words "God speed mama".
"So heartsick. Debbie went to be with Carrie. It's such a devastating 1, 2 punch," tweeted Debra Messing who played Reynold's daughter on the sitcom Will & Grace. "She was my 'mom' for years & I loved her dearly. A legend."
Messing's co-star Eric McCormack, who played Will, tweeted a short time later: "The combination of the loss of Carrie Fisher & then her mom Debbie Reynolds is too much. I'm really at a loss here."
Hollywood veteran Carl Reiner, who acted alongside Reynolds in the 1959 comedy The Gazebo, and later directed Fisher in the 1990 comedy Sibling Rivalry, tweeted: "How shocked we were to learn that Debbie Reynolds passed away just a day after her daughter Carrie. I loved & worked [with] both of these icons."
Famous chat show host Oprah Winfrey also posted a picture of the mother-daughter duo from one of the interviews on her show, captioning it: "Remembering the good times with Carrie and her mother."
Fellow chat show host Ellen DeGeneres added her tribute, expressing concern for the relatives of both women. She tweeted: "I can't imagine what Carrie Fisher and Debbie Reynolds' family are going through this week. I send all of my love."
Reynolds was 16 when she was spotted by Warner Bros during a beauty pageant. Her first breakout role was in Singin' In The Rain. She got an Oscar nomination for her role in the 1964 film, The Unsinkable Molly Brown. Other notable roles included Will & Grace, Lolo's Café, These Old Broads and Fear And Loathing In Las Vegas.
Fisher's semi-autobiographical and eponymous novel, which formed the basis of the film Postcards From The Edge—that starred Meryl Streep and Shirley MacLaine, was inspired by her own relationship with Reynolds who refused to play herself when asked.
"I think we've always been open and honest —that's why we didn't get along," Reynolds had said in 2010. "As a parent you must give your opinion. And if that causes a breach, then it causes a breach. Carrie and I have disagreements and stalemates, but we still walk away loving each other."
Truer words have rarely been spoken than that.