Singer passes away in UK home "peacefully"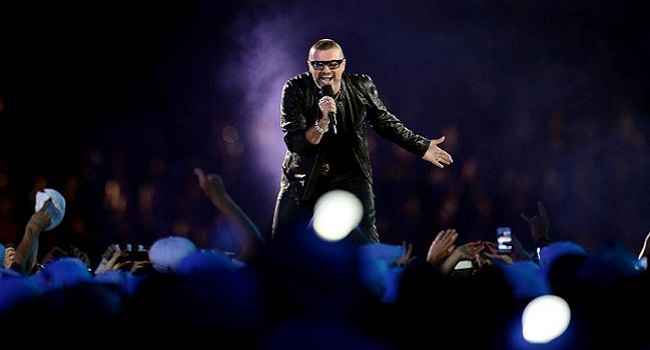 By Sucheta Dasgupta
The poster boy in my bedroom for 30 years is no more, read the Facebook status of a friend early on Boxing Day morning. The man who "last Christmas, gave us his heart" had passed away at his home in Goring, Oxfordshire, ironically on Christmas Day.
George Michael, who won millions of teenage hearts with that hit single and more, had died of suspected heart failure "in bed, lying peacefully", his manager, Michael Lippman, told police. He was only 53. Yesterday had been his "Last Christmas".
The British pop icon's death has unquestionably left thousands of fans bereft—even as tributes kept pouring in from his friends and those in the world of music and showbiz. His sudden death has left everyone in deep shock.
"I've lost a beloved friend," wrote Elton John who collaborated with him in Live Aid 1985, while his Wham! co-singer and schoolmate, Andrew Ridgeley, with whom he had made music since 1979, tweeted: "Heartbroken at the loss of my beloved friend Yog. Me, his loved ones, his friends, the world of music, the world at large. 4ever loved.". "I just heard about my friend @GeorgeMichael's death. He was such a brilliant talent. I'm so sad," said Ellen DeGeneres even while Duran Duran mused, "2016—loss of another talented soul. All our love and sympathy to @GeorgeMichael's family.""You have given the #world an amazing gift! What a #talent! What a #loss! We will continue to love you!" La Toya Jackson, sister of the King of Pop, declared.
Born Georgios Kyriacos Panayiotou to migrant parents in East Finchley, London, on June 25, 1963, Michael and Ridgeley hit the top of the charts at home with their 1983 debut album, Fantastic, before going on to become the global number one with their super-duper "Wake Me Up before You Go-Go" two years hence. A heart-stopping tune produced during this period was the love ballad,"Careless Whisper", with its haunting saxophone riff catching listeners by surprise right at the start.
Wham! folded up in 1986 but Michael was by no means finished. He began his solo career with his chartbuster No. 3, "I Knew You Were Waiting for Me", recorded with American gospel singer Aretha Franklin. It went on to win the Grammy for Best R&B Performance, achieving the ultimate Holy Grail, in 1988. This was followed up by Faith, the album that courted critical acclaim as well as controversy. However, approbation was not far away. In 1989, Faith won Album of the Year, notching up back-to-back Grammys for its creator.
But his next album, Listen Without Prejudice Vol. 1, with its signature "Freedom '90", was a deliberate departure from his pop persona. The audience, however, did not respond as enthusiastically to his experiment, and it sold far fewer copies. Michael was to release several more albums, including Older (1996) and Patience (2004), his last full-studio ensemble, but he would never revisit his glory days. Through the noughties, he stayed mostly out of the news, emerging occasionally to protest against the Iraq invasion in 2002 with the single, "Shoot the Dog", and in 2005 joining ex-Beatle Paul McCartney onstage to sing for Live 8. Michael had been planning an expanded reissue, due in 2017, of Listen Without Prejudice Vol. 1, paired with a documentary, Freedom, exploring his musical, personal and legal struggles, including those involving his bisexuality. But that was not to be.
Michael has left an indelible imprint on pop music. He was one of the first singers to introduce rap to the UK pop music scene. He also started a fashion revolution with his trademark mascara, colorful shirts, fingerless gloves and blond good looks. He sang against the Iraq war and encouraged people to embrace their sexuality. And to top it all, he helped nurture the rebel in the soul of the '80s child.
Remember him, friends. Don't lose them memories. Don't let the sun go down on him.